MovieMator provides more than 40 professional-looking video and audio filters. You can set the parameters of the filters and create your own filter preset for 15 video filters: Contrast, White Balance, Wave, Vignette, Text, Size and Position, Sharpen, Sepia Tone, Saturation, Rotate, Reduce Noise, Old Film, Glow, Crop, Color Grading.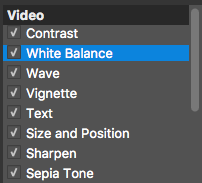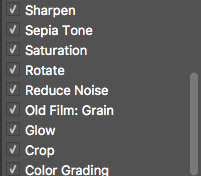 As an example, I will teach you how to create your own preset of "White Balance" filter.
Step1: Click on "Filter" button on the main interface, then click on "+" button. You will see the below interface.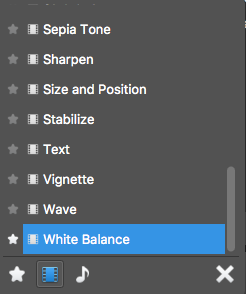 Step2: Click on "White Balance" and this filter will be added to the current element. Now you can adjust the parameters of this filter to make the video picture more natural and beautiful.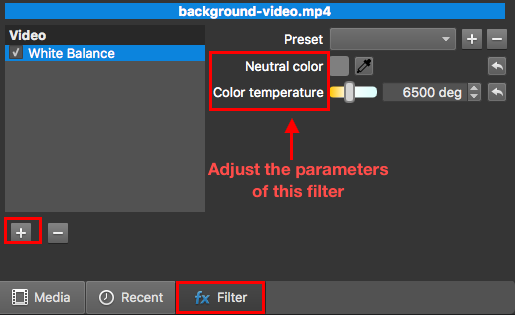 Step3: Create your own filter preset
If you are happy with the effect and want to save this setting as the preset that can be directly applied into another clips. You can click on "+" button to name your filter preset and click on "OK" to save it.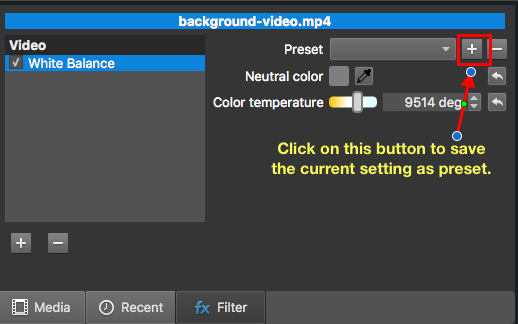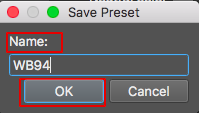 Step4: Directly applied this preset to another clip
As you see, the above preset is called WB94. Now, you can directly choose this preset for another clips from the drop-down box.


Step5: Delete the unwanted clip
You can freely delete this preset if you do not like it! Just click on "-" button.