If all videos you have are silent footage or with just crackled and distorted audio file that needs to be replaced, please follow this guide to learn how to add audio tracks to your videos or replace the original audio track with MovieMator.
Step1: Add audio and video files to MovieMator
Please visit "How to Quickly Start? " → "Import your videos/audios/images to Media Library" to learn how to add your video and audio files to MovieMator.
Step2: Add audio files to your video
Please visit "How to Quickly Start? " → "Add the target files to the representative tracks on the timeline for editing" to learn how to add video clips to the timeline. This way, the audio file(s) will be merged into the video. If your original video file is a silent footage, you have already added audio file to the video.

Step3: Replace audio track of video
This is similar to the last step. Just an extra step is required: click "Mute" button on the video track. After that, drag and drop your favorite music files to the audio track. Then, you can trim the longer track to make the lengths of video track and audio track match. You can visit "How to Trim Video/Audio Clips on the Timeline?" to learn how to trim the longer track.

Step4: Adjust the audio file (optional)
Various audio editing tools are available: set volume, speed up, slow down, add fade in/out effect and more. To change the settings, just add some audio filters like volume, fade in/fade out, balance, etc. or just right click the audio file on the timeline and click on "Properties" to view the detailed information of the audio file as well as adjust the "Speed" and "Sync". Hit "OK" to confirm the settings and go back to the main interface. Please visit "How to Apply Filters to the Entire Track VS a Section?" To learn how to add audio filters to the audio track.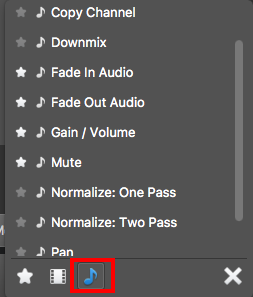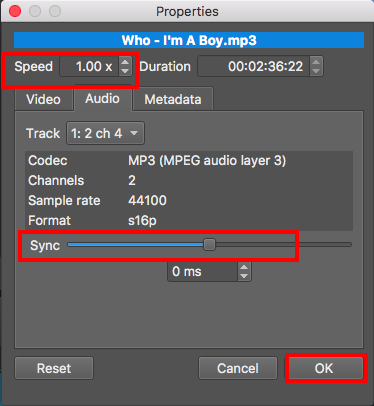 Step5: Export the video with audio track
Once you have finished adjusting the video speed, click "Play" button to preview the video. If everything is OK, export the video with audio tracks. Please visit "How to Export Desired Video Format" to learn how to export video files.