Video blur effects are usually used for transitions between different scenes of clips or for creating a changing blurry effect in movies and TV videos. With MovieMator Video Editor, you can easily add partial or overall blur effects to your video and create a video that changes gradually from blur to clear with keyframing.
Step 1: Open MovieMator Video Editor and load the video/audio/image files
Double-click the program icon to open MovieMator Video Editor.
If you haven't installed the latest version of MovieMator, download the Windows demo from here; the Mac demo from here.
Then click "Open" at the top left corner and select the file(s). Press "Open" to load the files to MovieMator.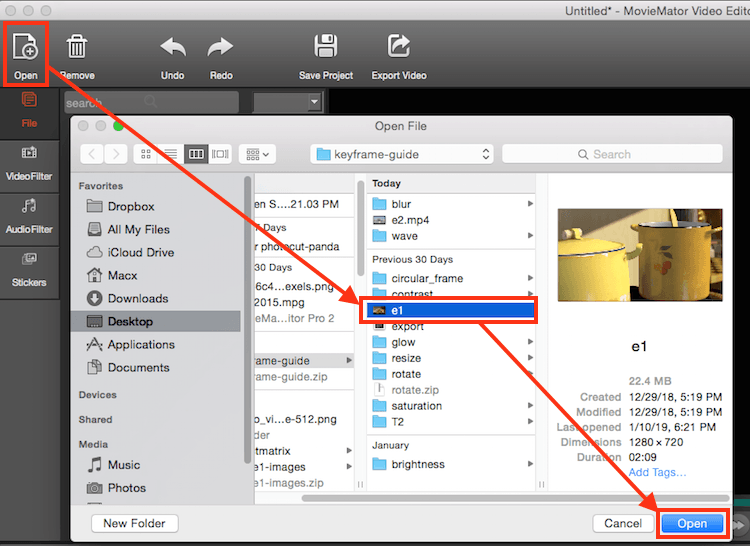 Step 2: Add the target files to the timeline
Select the target file and click "Insert" button, or drag & drop the target file from your local album to append it to the track on the timeline.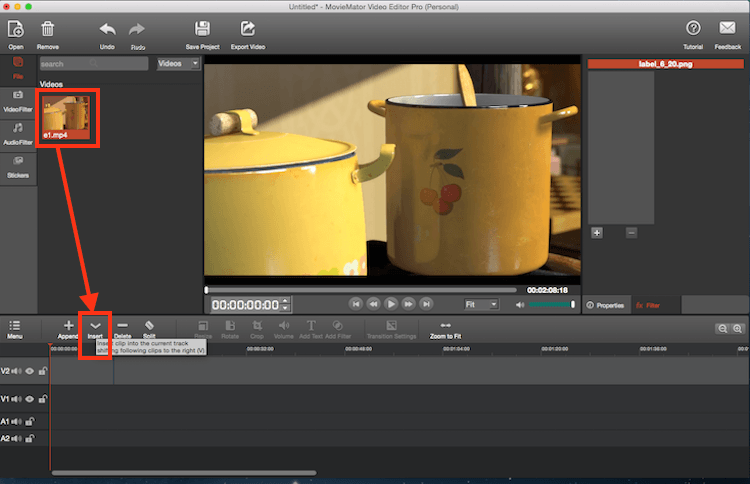 Step 3: Add the "Blur" filter
Select the video and click "Add Filter" to add the "Blur" Filter to the video, or click "Video Filter" in the left tab and click the "Add" button on the top-right of "Blur" filter.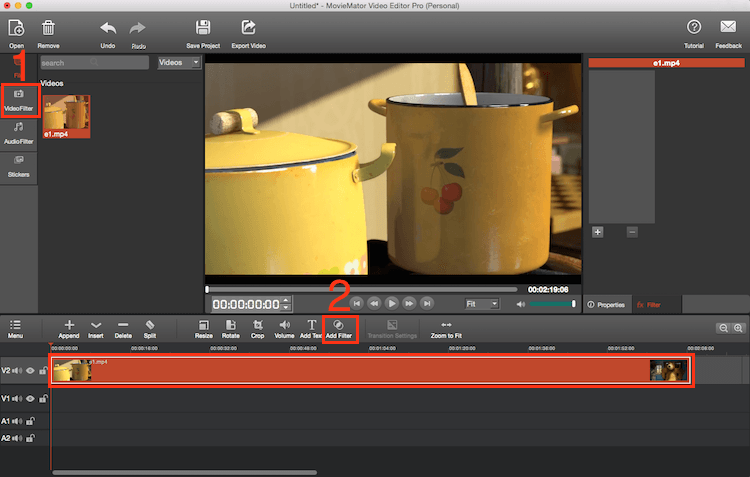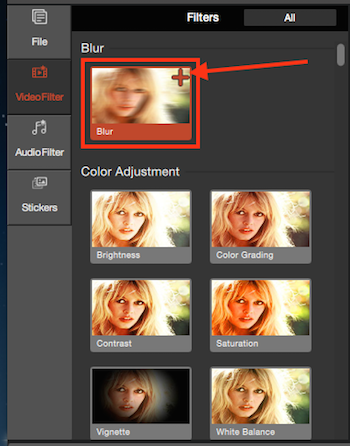 Step 4: Create animated blur effect with key frames
Check "Enable Key Frames" if you want to add animated glow effect. That is to change the blurriness of the video from low to high, or from high to low.
Upon checking this option, red keyframe markers will appear at the beginning and the end of the clip.
Tips: Click "+" button to add key frame to the moment; click "-" button to remove the unwanted key frame; click

to jump to the previous key frame; click

to jump to the next key frame.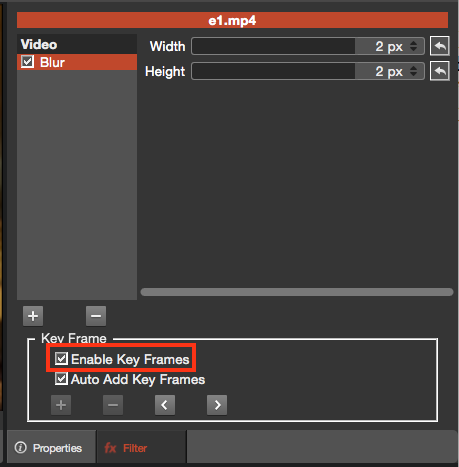 Slide to change the width and height of blurriness at each key frame. Preview the video and you'll see the blurriness changes along with the time.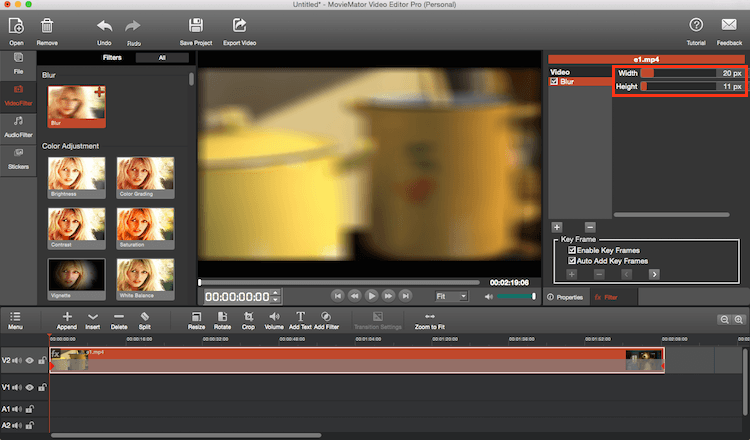 Please note that a key frame will be automatically added at the playhead when you adjust the blurriness of this moment with the option "Auto Add Key Frames" checked.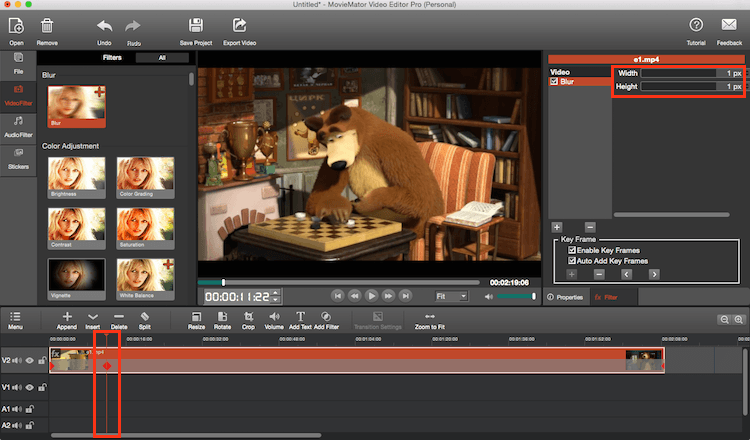 Step 5: Export your video or save the project for further editing
You could directly export videos with any format for playing on any device. Or save the project and edit them again in your spare time if you have to break off the editing process.
Export Videos:
Click "Export Video" on the main interface, then choose your desired format and adjust output settings. When everything is OK, click "Export File" to name the file and choose the destination folder.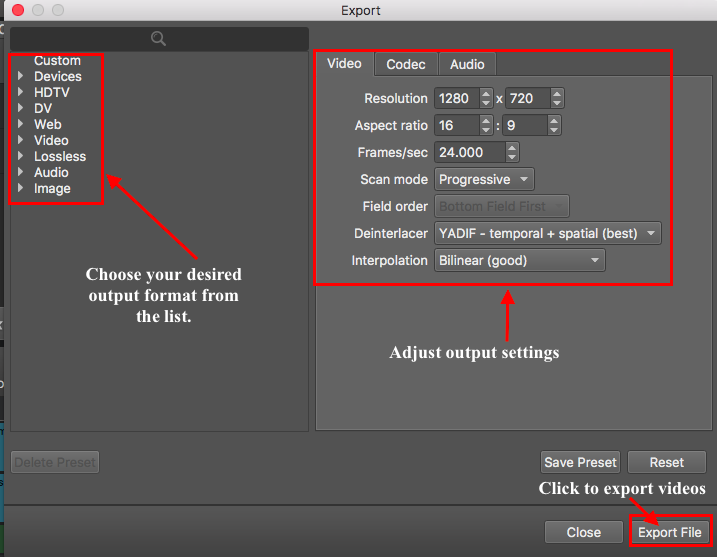 Save Project:
You have 2 ways to save project for further editing. One is to click "Save Project" on the main interface, the other is to click "File" menu, then click "Save" or "Save as" to name the file and choose the destination folder. By the way, if you are used to using keyboard shortcuts, you can also press "Command + S" to save the project.